Touch Newsletter #273
Welcome to the Touch Newsletter #273. We were saddened to hear of Richard H. Kirk's death last week and share the feeling that the world has lost yet another great innovator. Without the ground-breaking work of Cabaret Voltaire, where would we be? Our first collaboration was in 1984 when CV contributed "Diffusion" to the Touch Ritual cassette. From 1993 we worked closely with Richard on ten of his solo releases and personae, notably Sandoz. "Digital Lifeforms" (TO:21) remains an essential fusion of dance music for the mind and body.
The Touch: Displacing Bandcamp project reaches its conclusion with a new piece by Oren Ambarchi – "Celeste Confit" – a shimmering tone poem that evokes the worlds of Terry Riley and Steve Reich. The full set of Touch: Displacing recordings will be made available in due course.
Fennesz Sakamoto's "Cendre" is being released on vinyl on 15th October in North America via Forced Exposure and elsewhere via Kudos. This gatefold 2x10" is available to pre-order from Kudos. There's a new album from venoztks, "Light Breaker" and Simon Fisher Turner's Guerrilla Audio series approaches its 150th entry. Following a timely return to the Iklectik Arts Lab in London on September 16th, Jon Wozencroft will be presenting another sound seminar at the same venue on November 11th. Full details to follow in the next newsletter.
---
"Touch: Displacing"
V33:50
Following Touch: Isolation which covered the first lockdown period in the UK, Touch: Displacing is the second subscription project where the focus falls on longer-form compositions, released on a monthly basis over the coming year and featuring artists for whom duration is a key feature of their work. Contributors thus far: Sohrab, Olivia Block, Bana Haffar, Chris Watson, Richard Chartier, Robert Takahashi Crouch, Bethan Kellough, Geneva Skeen, Carl Stone, John Eckhardt, Philip Jeck…
This is the final part of this subscription, so please make sure you have downloaded all the tracks and then cancel the auto-renew of your credit card in Touch: Displacing before the renewal date. The album of all the tracks will be posted in a few weeks with a slightly higher retail price. Current subscribers will receive a code for the full album.
We must repeat a huge debt to Denis Blackham, who has mastered all the tracks and donated his services to the cause. Thanks Denis! Best of luck and love from us all on the next stage of your journey overseas.
Oren Ambarchi
"Celeste Confit"
"After much dillydallying I finally began work on a new solo album a few weeks ago, generating new material at my friend Konrad Sprenger's studio in Berlin. It will take some time for the new one to come together – there's so many roads the piece could go down – but this track came about when I took a slight (& much needed) detour from the task at hand." – Oren Ambarchi, Berlin, April 2021
Photography and design by Jon Wozencroft.
Mastered by Denis Blackham.
Subscribe to Touch: Displacing
---
Fennesz Sakamoto
"Cendre"
Tone 32V
2x10" Vinyl – 11 tracks. Pre-order the vinyl via Kudos. Mastered by Denis Blackham. Cut by Jason Goz. Design and photography by Jon Wozencroft.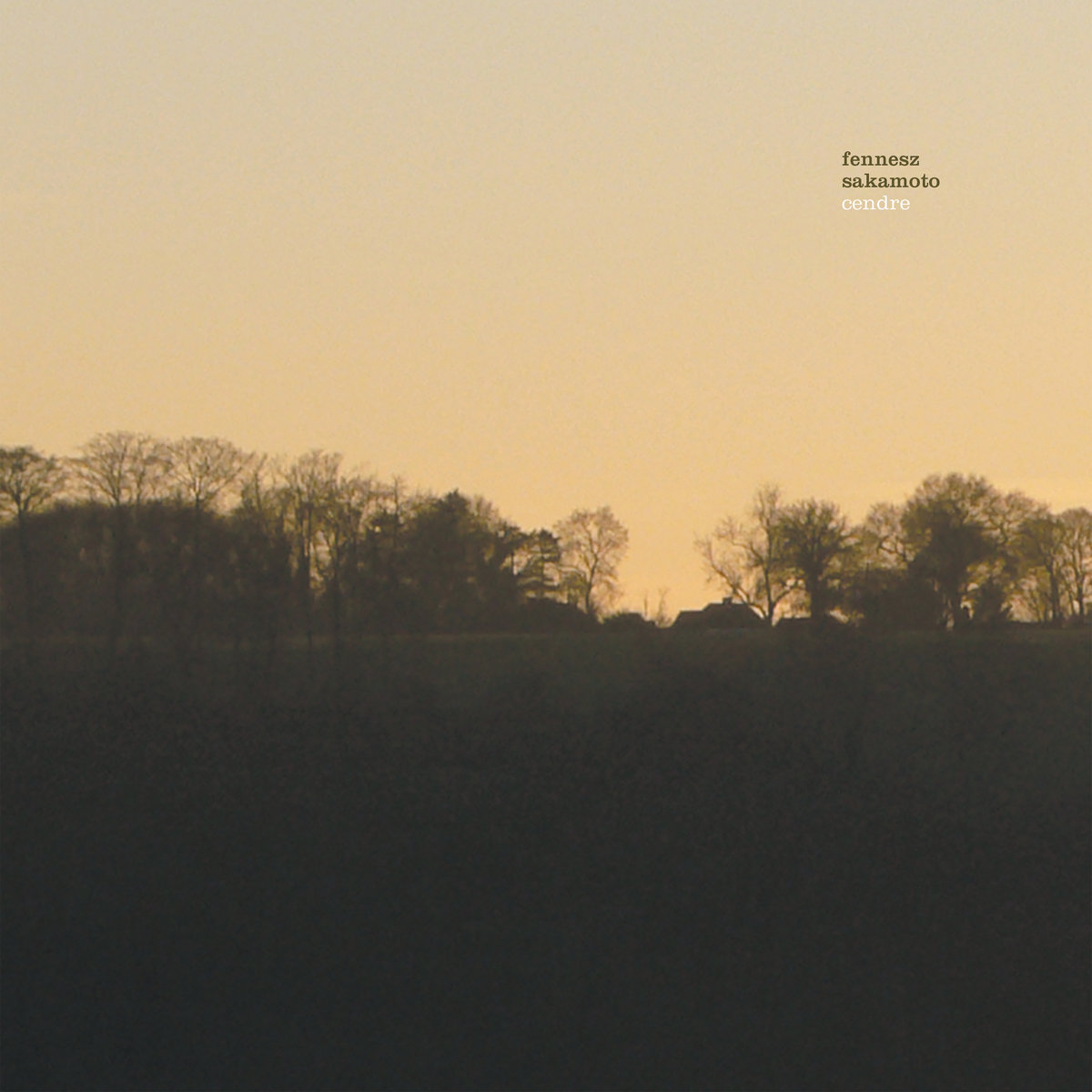 "Cendre" was recorded between 2004 and 2006 in New York City by Ryuichi Sakamoto and in Vienna by Christian Fennesz. They came together for the mix in New York City in February of that year. Fennesz would send Sakamoto a guitar or electronic track and Sakamoto would compose his piano piece. This process was also reversed – Sakamoto initiating the track with a piano composition and Fennesz responding. Meanwhile they met for live shows, or communicated via digital means to compare notes, swop ideas and develop themes… And the cyclical process continued right up until the final mix.
Ryuichi Sakamoto and Christian Fennesz blend the unstructured and imaginative qualities of improvisation with the satisfying sculpture of composition. Sakamoto's piano, his style reminiscent of Debussy and Satie, perfectly complements Fennesz with his powerful blend of shimmering guitar and passionate electronics.
Together they have combined to create 11 tracks of satisfying and challenging possibilities…
---
venoztks
"Light Breaker"
Vtks4
DL + .pdf – 1 track (with 5 indented titles). Buy "Light Breaker" on Bandcamp. Mastered by Charlie Campagna, Friday 13th August 2021, to whom grateful thanks are due. Text, drawings and .pdf layout by Heitor Alvelos.
1. indent 1 11:05
2. indent 2 28:36
3. indent 3 32:39
4. indent 4 43:12
5. indent 5 50:03
Recorded on The Balcony, Westwood, Los Angeles throughout COVID-19. All sounds are from shortwave band frequency manipulation. No hardwave synthesizer of any kind was used in the making of this album.
These sounds are a stab in time; destination unknown – provenance uncertain. Traceable, found, then – eventually – lost in deep space and time.
Radio waves act as a light breaker in the darkness of space.
Buy "Light Breaker" on Bandcamp
---
Byron Westbrook
"Mirror Views"
Ash 13.8
CD and digital. Buy "Mirror Views" on Bandcamp. Mastered by Simon Scott at SPS Mastering. Designed by Philip Marshall. Photography by Byron Westbrook.
1. Reflection Noise
2. Mirror View (First Contact)
3. Mirror View (Second Contact)
4. Mirror View (Totality)
Ash International presents "Mirror Views", a new long-form work from LA-based composer Byron Westbrook. While Westbrook's field recording process has been central for many years to both his composition and installation works, there has yet to be a major release showcasing this aspect of his artistic practice. On "Mirror Views", he seamlessly blends cassette field recordings with "faked" synthesizer binaural environments created from noise and unstable tones. The album's four sections and 72 minutes unfold with patience, taking cues from Luc Ferarri and Maryanne Amacher to use the passage of time to create deeply immersive effects. Westbrook also incorporates animated phase relationships between speakers to simulate perspective shifts, blurring what is a documented event vs. electronic fabrication. This is a work of subtlety and sonic precision that is only possible to reproduce on CD and digital formats.
Buy "Mirror Views" on Bandcamp
---
Guerrilla Audio
Guerrilla Audio is a series of audio raids by Simon Fisher Turner.
guer·ril·la
ɡəˈrilə/
noun
noun: guerilla
a member of a small independent group taking part in irregular fighting, typically against larger regular forces.
Each audio edit will be posted for 14 days and then removed from the site, although the information about each guerrilla activity will be archived, but without the audio. There will be two postings per month with the first (also featuring Klara Lewis & Rainier Lericolais) on 1st August 2015, so please check in regularly to listen to the latest offering. We are well into the fifth year and have just posted episode 149…

Guerrilla Audio
www.simonfisherturner.com
---
Twitter, Instagram and Facebook
Twitter - @touchmusic | @ash10_3 | @the_tapeworm
Instagram - @toucharchive | @the.tapeworm
Touch on Facebook | The Tapeworm on Facebook
---
The previous Touch NewsLetter can be found here