Welcome to the Touch Newsletter #185. Now available for pre-order is OZMOTIC's first album for Touch, "Elusive Balance". Release date is 6th July 2018 (13th July for North America). As a bonus, 4x Sonic Miniatures are free with this download only from TouchShop and TouchBandcamp.
Jasmin Blasco made his Tapeworm debut last year with a track on the labels' 100th tape, "A Can of Worms". His new release for the imprint, "SKY-CHU /∫u/", pairs audio from the installation of the same name at Wilding Cran Gallery, Los Angeles, with a live interpretation recorded on-site. See also his track on "Live at Human Resources" [Touch # Tone 60].
TO:107 | OZMOTIC "Elusive Balance"
CD – 7 tracks – 41:44 + 4 sonic miniatures free with this album
Artwork and photography by Jon Wozencroft
Mastered by Denis Blackham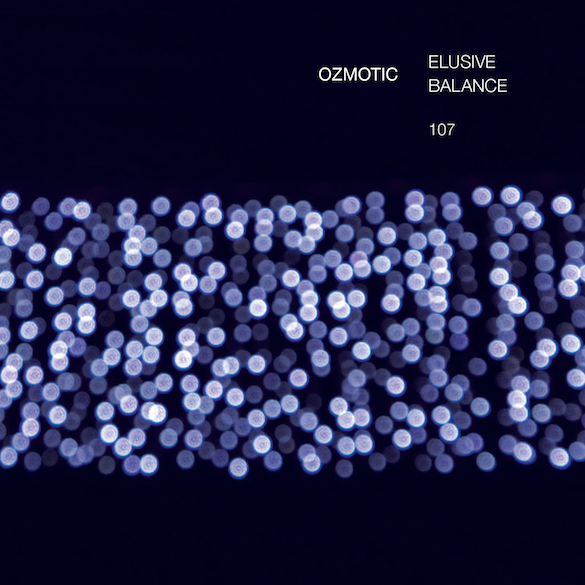 Track listing:
1. Elusive Balance
2. Hum
3. Pulsing
4. Lymph
5. Being
6. Whisper
7. Insecting
OZMOTIC is a multidisciplinary artistic project, deeply fascinated by the dynamics of contemporary society, by architecture, cities and vast uncontaminated spaces. OZMOTIC creates world sounds characterized by an intense tonal variety and a refined rhythmic research. The interaction between electronic music and digital visual art in real time is an essential trait of OZMOTIC's aesthetic. Having previously collaborated with Fennesz, Murcof, Bretschnider and Senking, "Elusive Balance" is their third album, following "AirEffect" in 2015, and "Liquid Times" in 2016 (both for FolkWisdom), OZMOTIC now release their debut album for Touch.
"Elusive Balance" explores the relationship between humans and nature, as well as the search for balance between these two great entities. The theme of equilibrium and its precariousness, and its natural tendency to achieve relative stability connects all living things. Equilibrium is also a junction point and evolutionary engine – unstable and elusive, ready to deteriorate and to start a new reaction mechanism bringing organisms to a new harmony. "Beauty is a rare and fleeting thing; it oftencorresponds to those phases where we can grasp that unstable equilibrium which exists between us and the world at large."
Musically the album seeks resolution of sound contrasts, in a continuous search for an emotional component that gives simultaneously a feeling of tension and stillness. There is a duality between the 'organic' components (represented by soprano sax and percussion) and their interaction with machinesand computers. In "Elusive Balance", OZMOTIC investigate the essence of their sound to expand its emotional and compositional potential. Each track contains a search for a synthesis between sound elements apparently distant from each other, but in reality create a new balance – as poetic as it is musical. The album's seven tracks draw a sonic flow in which the melodic aspects are countered by glitchesand angular sounds, and the ambient passages are subjected to heavy rains of rhythm, leaving space for dreamlike moments.
Pre-order OZMOTIC "Elusive Balance" in the TouchShop
Pre-order OZMOTIC "Elusive Balance" on Bandcamp
www.ozmotic.it
TTW#106 | "SKY-CHU /∫u/"
Cassette only – limited edition of 75 copies.
A: SKY-CHU /∫u/ – audio from the installation "SKY-CHU /∫u/" at the Wilding Cran Gallery, Los Angeles, USA, April 2018 by Jasmin Blasco and David Okum. With thanks to Jeremy Emery and Yuta Sasaki.
B: SKY-CHU Improv 1 – recorded live at Wilding Cran Gallery, 15.iv.2018. Jasmin Blasco: audio from the 5.1 installation. Jason Adams: cello. Derek Gaines: guitar. Zachary Paul: violin. Patrick Shiroishi: saxophone.
"The desert is hard to look at, it's too subtle." — Captain Beefheart
SKY-CHU is a live taping of a performance on April 15th, 2018, in which Patrick Shiroishi and Zachary Paul, with additional guests Derek Gaines on guitar and Jason Adams on cello, performed an improvised piece inside Jasmin Blasco and David Okum's sound sculpture SKY - CHU /∫u/, at Wilding Cran Gallery in downtown Los Angeles.
SKY-CHU /∫u/ demands that the listener become aware of the process of listening itself. For the April 15th performance, each viewer/performer was asked to reflect on the moments of transition between interior and exterior listening – listening to oneself vs. listening to the world. The performers were invited to improvise to Blasco's original sound piece, dramatising the spontaneous occurrence of this process.
/∫u/– the Norwegian word for cloud, spelled "sky", is pronounced "choo".

Buy "SKY-CHU /∫u/" in the TouchShop
More information on www.tapeworm.org.uk
www.jasminblasco.com
Guerrilla Audio
Guerrilla Audio is a new series of audio raids by Simon Fisher Turner.
guer·ril·la
ɡəˈrilə/
noun
noun: guerilla
a member of a small independent group taking part in irregular fighting, typically against larger regular forces.
Each audio edit will be posted for 14 days and then removed from the site, although the information about each guerrilla activity will be archived, but without the audio. There will be two postings per month with the first (also featuring Klara Lewis & Rainier Lericolais) on 1st August 2015, so please check in regularly to listen to the latest offering. We are well into the 3rd year and have just posted episode 68…

Guerrilla Audio
www.simonfisherturner.com
Twitter, Instagram and Facebook
Twitter – @touchmusic | @ash10_3 | @the_tapeworm
Instagram – @toucharchive | @the.tapeworm
Touch on Facebook | The Tapeworm on Facebook
TAPP 01 | Touch app for iOS
Download the free Touch iOS app at the iTunes App Store
The previous Touch NewsLetter can be found here.