Welcome to the Touch Newsletter #184. On Wednesday 20 June 2018, Touch presents Mark Van Hoen, Sohrab, Jasmin Blasco and Marta de Pascalis live in Berlin at Monarch. DJ v93r is the secret special guest. Further info below and on the Facebook Event page
The Berlin event celebrates "Invisible Threads", Mark Van Hoen's first solo album for Touch since "Last Flowers from the Darkness" in 1997. Also performing in Berlin is Marta De Pascalis – only a couple of copies of her recent split album with Howlround for The Wormhole remain, so we are now making the recordings available digitally via Bandcamp.
In London this Sunday evening, 17 June 2018, as part of the Crystal Palace Festival, Kumo performs his recent Tapeworm tape "Day/Night" live for the first time.
Touch presents… Live at Monarch, Berlin 9pm 20th June 2018
In performance: Mark Van Hoen, Sohrab, Jasmin Blasco and Marta de Pascalis.
DJ v93r is the secret special guest.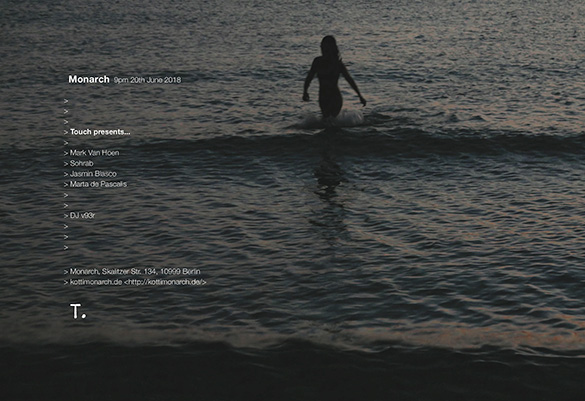 Mark Van Hoen is a British electronic music artist. He has released under his own name as well as Locust. Pitchfork said, "Musically, Van Hoen belongs to a distinguished family tree. Originally influenced by the likes of Brian Eno and Tangerine Dream, and later presaging both Autechre's glitch and Boards of Canada's pastoral IDM."
Sohrab was born in Tehran in 1984. He was seven when the Iran-Iraq war ended. His name, from an old poem called 'Shahname', means 'rouge water', which can also mean 'blood'. He started a punk band with his brother and a friend, which lasted about two years before splitting… He was totally isolated in Iran, so he left and now resides in Germany.
Jasmin Blasco (b.1981) is a multi-disciplinary artist who approaches time-based media as the site where sound, image, and language conspire to generate fictions. Through a process of research and abstraction, his practice stages the individual in problematic narratives. He lives and works in Los Angeles.
Marta De Pascalis (Rome, 1987) is an Italian composer living and working in Berlin. Her solo works employ analog synthesis and tape loops, incorporating free playing into steady, repetitive patterns. She has produced two albums of Berlin School minimal synth excursions: the self-released Quitratue (2014) and Anzar (The Tapeworm, 2016). Her new piece 'Her Core' was published in spring 2018 by The Wormhole.
++DJ v93r
++++Secret special guest
Further info on the Facebook Event page
www.kottimonarch.de
TO:104 | Mark Van Hoen "Invisible Threads"
CD + download – 7 tracks – 39:51
All titles composed and recorded by Mark Van Hoen in Los Angeles 2016
Photography & design by Jon Wozencroft
Mastered by Denis Blackham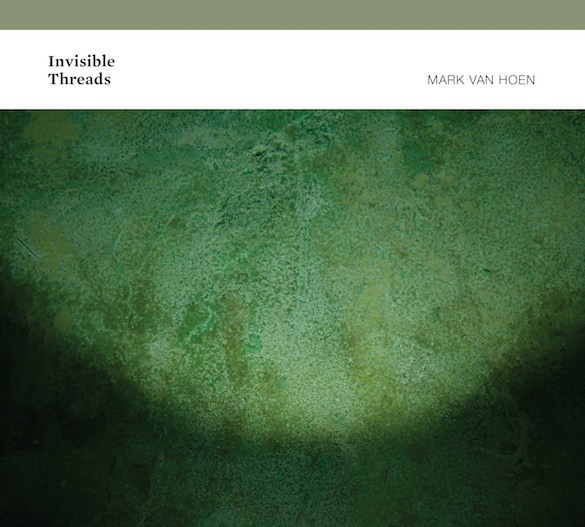 Track listing:
1 Weathered
2 Dark Night Sky Paradox
3 Opposite Day
4 The Yes_No Game
5 Aethēr
6 Flight Of Fancy
7 Instable
Mark Van Hoen writes: "In mid 2016 I did a brief tour of the west coast with Philip Jeck, Simon Scott, Daniel Menche, Lee Bannon, Kara-Lis Coverdale, Pye Corner Audio and Marcus Fischer. The music of all these great artists and the experience of playing these shows with them all informed what would become 'Invisible Threads', which was primarily composed and recorded in the latter half of 2016. I had not played live at dates in such a dense cluster for many years, and the exposure to so much great music and the artists was inspiring. Other Touch artists were also an influence here - Claire M Singer, Jana Winderen and as ever Chris Watson (who has been an enduring influence from the moment I first heard Cabaret Voltaire in 1979), along with my project 'drøne' with Mike Harding… the collaborative aspect of drøne brought up a few new paths in itself.
During the time I was recording the album I was editing audio and sound design for films - this too went some way to defining the structure and sound of 'Invisible Threads'. At the time of recording several of the titles on the album, I had re-read 'The Conversation of Eiros and Charmion', a short story by Edgar Allen Poe, and in some ways this record is a soundtrack to that.
The title 'Invisible Threads' refers to the intangible connection between all of the musical and personal influences that brought this record into being."
Buy Mark Van Hoen "Invisible Threads" on Bandcamp
www.markvanhoen.com
WHO#12D | Marta De Pascalis "Her Core" / Howlround "Hard Core"
WAV download, 2 tracks, 37:15
With the limited vinyl edition almost sold out, this edition is now available to purchase as a download from Bandcamp.
Recorded live at 'A Can of Worms', Iklectik, 29.ix.17 by Ilia Rogatchevski. Artwork by Stefan Fähler.
Track listing:
A: Marta De Pascalis "Her Core"
AA: Howlround "Hard Core"
The shadowy forces behind The Tapeworm are delighted to announce the latest release to come flying out of The Wormhole. Two of Europe's foremost exponents of the tape loop go head-to-head, recorded within the hallowed environs of a former Buddhist Monastery – with dramatically un-Zen results.
On one side, Italian composer Marta De Pascalis mixes loops and analogue synthesis to create densely layered collages of glowing melodic shards and growling bass distortion, her hypnotic minimal synth figures warping and whirling around each other before dissolving into entropic oblivion. 'Her Core' is a rusty, sand-blasted slab of heaviness that provides the perfect continuation from her two solo albums – a hall of mirrors collapsing in on itself, over and over.
Meanwhile, Howlround is in full contraction mode on 'Hard Core', heading directly into the murky innards of a quartet of vintage reel to reel machines and using live tape delay to create syncopated rhythmic pulses, crackles and squelches that founder member Robin The Fog describes as 'accidental gabber'. Originally rising to notoriety through sonic portraits of entire buildings, here Howlround dramatically scale down the subject matter to concentrate on mapping out the endless psychedelic dimensions of a circuit board, discovering a whole new world of creative potential in the process.
Both sets were recorded live at London venue Iklectik during the fall of 2017 at "A Can of Worms", an event to celebrate The Tapeworm's 100th release. What's perhaps most remarkable about this LP is that it captures a pair of artists in a snapshot, in parallel. Here, Howlround shakes off the back catalogue, stepping out of the comforting confines of the studio. De Pascalis plays harder than ever before. Both artists taken by a moment, into the harsh glare of the unknown. The fact that each has created their noisiest and most abrasive work yet will surely be seen as a happy coincidence. A can of worms, indeed…
Download Marta De Pascalis "Her Core" / Howlround "Hard Core" at Bandcamp
Buy Marta De Pascalis "Her Core" / Howlround "Hard Core" split LP in the TouchShop
www.martadepascalis.com
www.howlround.co.uk
More information on www.tapeworm.org.uk
TTW#108 | Kumo "Day/Night"
Cassette only – limited edition of 125 copies.
Art by Sayako Sugawara.
Track List
A: Day
B: Night
Written, performed and produced by Kumo in SE23.
"From a starting point of two field recordings taken from the balcony of my flat in South East London, one was taken during the day the other at night, the rest of the music was built up in response: synths and theremin played as karaoke to the sounds of the estate. Accompanying, mimicking, occupying the spaces between the deliveries, planes, dogs, birds and the kids next door writing grime tunes. 'Day' was written, performed, recorded and mixed in the flat during daytime with only natural light, 'Nigh' under cover of darkness." – Jono Podmore, London, 16.xii.2017
Biography:
Kumo aka Jono Podmore – Professor of the Practice of Popular music at the prestigious Hochschule für Musik in Cologne, Germany – is best known latterly for his tireless work curating and managing the archives of Krautrock pioneers Can. In this respect, his masterstroke to date has been assembling the essential "The Lost Tapes" boxset.
Work under his Kumo alias across multiple releases, performances, DJ sets and installations has included collaborations with the likes of Irmin Schmidt, B.J. Cole, Jaki Liebezeit, Mr. C and Jose Padilla. His ongoing Horrorshow multimedia venture brings together live soundtracks and short films, and his established group Metamono finds new life in vintage analogue and hand made electronics, releasing two albums, and Secrets of Nature - Sounds Unseen: live electronic music for silent British film.
His label Psychomat was brought back to life in 2017 with two new single releases and more are planned. Jono is currently working on the score for feature film The Giaour, a book about Jaki Liebezeit's life and theories, and teaches Tai Chi in London.

Buy Kumo "Day/Night" in the TouchShop
More information on www.tapeworm.org.uk
www.psychomat.com
TO:110 | Strafe F.R. – "The Bird Was Stolen"
CD + download – 14 tracks – 63 minutes
Mastered by Denis Blackham
Artwork & photography: Jon Wozencroft
Dada/video image: Strafe F.R.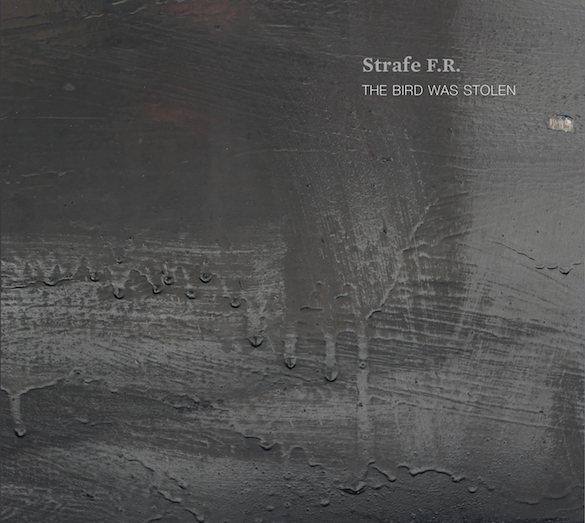 Track listing:
1. Jovian Tempest
2. Prepper's Home
3. Aconite
4. Anophelis
5. Cap de Barbaria
6. Pianosmoke
7. Flare
8. Medusa
9. Golden Stomach
10. Dictator
11. Himmelgeist
12. Megalitic
13. Violet Sun
14. Towton
The bird was stolen because the donkey was sleepy.
Based in Düsseldorf, Germany, Strafe F.R. is a long-term collaboration between the artists Bernd Kastner and S. M. Syniuga, which started in 1979. After a long period of hibernation, The Bird Was Stolen marks their return to Touch following four previous releases in the 80s and early 90s.
From their early connection with the local scene, centred around the Ratinger Hof in Düsseldorf, Strafe went on to develop a unique and influential form of sound sculpture that pioneered the use of field recordings alongside home-made instruments and the use of the studio as a performance space.
A new track, 'Virgin', which appeared on the recent Touch Movements CD/book, gave an early indication that they are back at the peak of their powers. The Bird Was Stolen presents 14 new compositions that push the signature sound of Strafe F.R.
Chain D.L.K. write: "Strafe F.R.'s second album since returning from a 20-year hiatus is an exercise in contradictions. Truly experimental, it provides us with 14 unique and hard-to-read environments of metallic noises, heavy filters and tape effects, heavily gated guitar and guitar-like noises, pulses and processing- then crashes into them to various degrees with percussive surprises that are sometimes harsh and unpleasant, sometimes quirky bordering on comical. Even the press release skips from talking about vanilla fudge in coconut trees and finding Liszt sleeping inside a piano to the devoured liver of Prometheus. It's one of those "really don't know what's going to happen next" releases, exemplified by the sudden appearance of heavily processed vocal on "Aconite" with a lyric in which the album title is found.
But among the wilful surprises, there's a rich depth to be found here as well. Though constructed from unorthodox parts, "Prepper's Home" is a fascinating bit of electronica with a truly emotive undercurrent that suddenly breaks into almost Krupa-esque jazz rhythms in its second half. "Pianosmoke", built from an experiment in playing bass and guitar sounds through a loudspeaker inside a piano in order to stimulate the resonance of the piano, ends up being a very coherent and melodic work that with the right electronica remixes would have a lot of crossover appeal, while other pieces like "Flare", though built of similar stock, have a darker layout and a more spontaneous and theatrical flavour. "Violet Sun" is a good example of a sparser approach, in which the processed guitar evokes feelings of some sort of alien road movie, while final track "Towton" throws furthest back towards the band's 80's roots with some very analogue, fuzzy tape flavours and Nina Hagen-ish vocal wails, right down to its abrupt halting end.
It's an unpredictable, fresh-sounding and rich hour-long release which never drops the interest levels, and it's certainly worthy of attention." [Stuart Bruce]
Buy Strafe F.R. – "The Bird Was Stolen" on Bandcamp
www.markvanhoen.com
Guerrilla Audio
Guerrilla Audio is a new series of audio raids by Simon Fisher Turner.
guer·ril·la
ɡəˈrilə/
noun
noun: guerilla
a member of a small independent group taking part in irregular fighting, typically against larger regular forces.
Each audio edit will be posted for 14 days and then removed from the site, although the information about each guerrilla activity will be archived, but without the audio. There will be two postings per month with the first (also featuring Klara Lewis & Rainier Lericolais) on 1st August 2015, so please check in regularly to listen to the latest offering. We are well into the 3rd year and have just posted episode 68…

Guerrilla Audio
www.simonfisherturner.com
Twitter, Instagram and Facebook
Twitter – @touchmusic | @ash10_3 | @the_tapeworm
Instagram – @toucharchive | @the.tapeworm
Touch on Facebook | The Tapeworm on Facebook
TAPP 01 | Touch app for iOS
Download the free Touch iOS app at the iTunes App Store
The previous Touch NewsLetter can be found here.