Welcome to the Touch Newsletter #193. The year ends on a high with the release of Howlround's first LP for Touch, "The Debatable Lands". As we head out of the maelstrom which was 2018 and perhaps into even greater uncertainties next year, we can look forward to new albums from Simon Scott - "Soundings", Fennesz - "Agora", ELEH – "Living Space"; the second and final collaboration between Joséphine Michel and Mika Vainio; a vinyl edition of "There Where the Avalanche Stops – Albanian Music Vol. 1", which we released on CD in 1990; new works from Strafe F.R. on vinyl, Jana Winderen, Claire M Singer's previously announced vinyl collection from "Solas" and "Fairge"; Phill Niblock – "Working Touch", film and music on USB stick; some first timers on Touch from the US contingent, and also some big surprises… and on Ash International in association with Meakusma, a CD album from the field recording trip in September 2018 featuring Chris Watson, Jasmin Blasco, Pepa Ivanova and others…
The Tapeworm is slithering towards its 10th birthday in the summer of 2019. It closes 2018 with two new editions: "Univorm" by Thomas Mahmoud and Wild Daughter's "Live at The Backstreet" – full details below. It will begin 2019 with two January editions on The Wormhole: "Scaffold Eyes" by Armin Lorenz Gerold and "GPS Poetics" by Blood Music – full details on the next Touch newsletter. To follow: tapes on The Tapeworm from John Macedo, Middex and Moon Ra; vinyls by Cristian Vogel and Achim Mohné from The Wormhole; books on The Bookworm by SavFrost and Finn Johannsen.
TTW#112 | Thomas Mahmoud "Univorm"
Cassette only – limited edition of 100 copies. Artwork by Stefan Fähler.
Tracklist:
A: Univorm A
B: Univorm B
Born in 1977, Thomas Mahmoud is a Berlin based cross-disciplinary artist – musician, sound designer, performer, author and radioplay producer.
Since stepping down as the singer with Cologne based band Von Spar (L'age d'or, Tomlab), he has pursued his interests in deconstructing sounds, using analogue and digital tools to work with textures and field recordings. His installation and sound design work is renowned, not least his 48-hour opera with the Solistenensemble Kaleidoskop or his work with choreographer Kat Válastur at the Onassis Cultural Center in Athens.
Many musicians eras­e mis­takes – sta­tic pro­duced by tan­gled wires between the instru­ment and the ampli­fier painstak­ingly fil­tered-out, the ran­dom record­ing mis­takes deleted and corrected, until every­thing is pleas­antly plain. Oth­ers work with the waste of these pro­ce­dures, with the dis­pens­able, the sonic trash. This is how Mahmoud works. He lis­tens closely and grabs the hiss and the hum, not the tone, of a thick bass string. He samples the breath­ing, not the voice, of his favourite singers.
A collaborator by instinct, Mahmoud has worked with the likes of Can Khan Oral, Michael Wertmüller, Mouse on Mars, Birds Of Death, Jammin' Unit, Dr Walker, Marcus Schmickler and many more. "Univorm" is his most recent multimedia project, in collaboration with visual artist Stefan Fähler.

Buy Thomas Mahmoud "Univorm" in the TouchShop
More information on www.tapeworm.org.uk
TTW#113 | Wild Daughter "Live at The Backstreet"
Cassette only – limited edition of 100 copies.
Wild Daughter logotype – Ross Teperek.
Artwork – Stuart McKenzie.
Manicure – Stefan Fähler.
Tracklist:
A1: Take Your Life/We Don't Like
A2: Get Gone
A3: Digit It
A4: Snatch
A5: Mr. G
A6: Mr. Midnight
A7: Brando Bomb
A8: Carry Me Home
Programme repeats on B-side
Wild Daughter are the light and the dark, the push/pull, the tension, the release. On "Live at The Backstreet" – recorded on 13.ix.18 at infamous East London gentlemen's club The Backstreet – they are captured live, in their element. Accompanied by newest members Jacob Shaw and Conrad Pack, founders James Jeanette and Stuart Mckenzie conjure up sexual demons, inciting the audience almost into a ritualistic trance. Be warned…

Buy Wild Daughter "Live at The Backstreet" in the TouchShop
More information on www.tapeworm.org.uk
www.wilddaughtersite.com
TO:108 | Howlround "The Debatable Lands"
LP - 4 tracks - 33 minutes
Six extra download tracks with vinyl only available when purchasing in the TouchShop.
Cut by Jason @ Transition
Mastered by Stephan Mathieu
Artwork & photography by Jon Wozencroft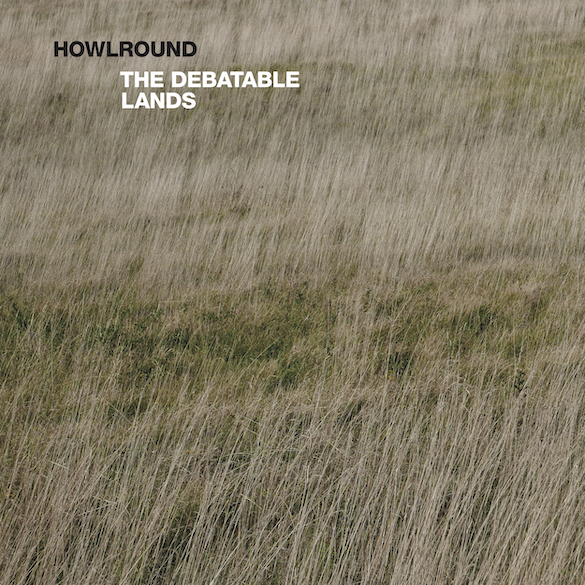 Track listing:
A1. Threip 11:53
A2. The Black Path 5:21
B1. Talkin Tarn 8:23
B2. Moat 7:22
In December 2017, Howlround (Robin the Fog) was invited to perform at "The Winter Solstice Soundscapes" event for the recently opened record store "Vinyl Café" in his home town of Carlisle, Cumbria. Inspired by the reception to his first ever performance in the great border city, he covered his parent's dining room table with the same equipment, stretched loops of tape around his mum's seasonal candlesticks when she wasn't looking… and this LP is the result. The only equipment used on the album is two 1/4" reel-to-reel tape machines and one microphone. The sounds created are entirely at the discretion of the machines (much of them derived from 'closed-input' recordings) and all tracks were produced in a single take. There are no edits, no overdubs and no additional effects.
This marks a new, heavier direction for Howlround, a project better known for more ambient work. Described as "Tapeloop Techno", thick knotty tangles of dense, pulsating bass are an echo of Robin's early days making bad dance music, while the abrasive snarls of feedback swirling around these tracks point to his more recent embrace of indeterminacy and chance composition. Previous vinyl releases on Psyché Tropes, The Wormhole, A Year in the Country and Front & Follow as well as his own label The Fog Signals have shown a deep understanding of the possibilities of tape manipulation. On The Debatable Lands Howlround eschews the usual field recordings in favour of exploring the interior world of the machines themselves.
Buy in the Touch Shop – includes six bonus download tracks
www.howlround.co.uk
2018 Roundup
A roundup of of 2018's editions from Touch, Ash International, The Tapeworm and The Wormhole available in the TouchShop and on Bandcamp (if no longer available, they are not listed below).
You can purchase a Touch Subscription in the TouchShop and get a 10% discount on all purchases…


Touch
The Tapeworm / The Wormhole / Vanity Publishing
| | |
| --- | --- |
| Marta De Pascalis / Howlround "Her Core" / "Hard Core" | Jon Wesseltoft / Balazs Pandi "Infinite Vice" |
| Kostis Kilymis "Second Saturation" | Kumo "Day/Night" |
| "SKY-CHU /∫u/" | Hanno Leichtmann "SY-4" |
| Thomas Mahmoud "Univorm" | Wild Daughter "Live at The Backstreet" |
| Dale Cornish "Temporal" | Luke Lund "Ei Sanottavaa (Nothing to Say)" |
Ash International
Guerrilla Audio
Guerrilla Audio is a new series of audio raids by Simon Fisher Turner.
guer·ril·la
ɡəˈrilə/
noun
noun: guerilla
a member of a small independent group taking part in irregular fighting, typically against larger regular forces.
Each audio edit will be posted for 14 days and then removed from the site, although the information about each guerrilla activity will be archived, but without the audio. There will be two postings per month with the first (also featuring Klara Lewis & Rainier Lericolais) on 1st August 2015, so please check in regularly to listen to the latest offering. We are well into the 3rd year and have just posted episode 81…

Guerrilla Audio
www.simonfisherturner.com
Twitter, Instagram and Facebook
Twitter – @touchmusic | @ash10_3 | @the_tapeworm
Instagram – @toucharchive | @the.tapeworm
Touch on Facebook | The Tapeworm on Facebook
TAPP 01 | Touch app for iOS
Download the free Touch iOS app at the iTunes App Store
The previous Touch NewsLetter can be found here.