Welcome to Touch Newsletter #161. UnicaZürn (David Knight and Stephen Thrower) release "Transpandorem", their Touch debut, this month. Full details and pre-order links below. The duo will make a rare live outing at Café Oto on Wednesday 25th January. Tickets are now on sale at www.cafeoto.co.uk
The Tapeworm's first two tapes for 2017 – Simon Scott's "STUK" and Jay Glass Dubs' "Dislocated Folklore" – are now available to pre-order and should ship at the end of January.
Also out this month – "Gong/Ear: Shaman" by American composer, musician and visual artist Philip Corner. An important addition to his Gong/Ear: Dancer series, in a CD edition of 250 copies only.
Born and raised in Ankara, Turkey, Ipek Gorgun is an electronic music composer currently enrolled in the doctoral program of Sonic Arts at Istanbul Technical University's Center for Advanced Studies in Music. Her audio/visual piece "Aphelion" is now available as part of our TouchLine series.
New to Bandcamp – mikavainio.bandcamp.com – here you will be able to find Mika's Touch catalogue of releases. Also, "The Sinking of the Titanic" and Fennesz's seminal "Live in Japan" release have been added to touch333.bandcamp.com
drøne have released a Bandcamp exclusive download, "Schubert Dip" – a track using only compositions from the classical era. drøne's first live show will take place with Bethan Kellough on the roof of The Ace Hotel, DTLA on 5th February from 1pm. Further information to be announced here shortly at www.acehotel.com.
There is also an event at The Ace Hotel, Palm Springs, California consisting of a four-channel mix featuring Chris Watson, Jana Winderen, Claire M Singer, Achim Mohné, Yann Novak, BJNilsen, Philip Jeck and Mark Van Hoen. Further details will appear on our website when available…
Finally, we present a round-up of our 2016 releases still available at the TouchShop, featuring releases from Touch, Ash International, The Tapeworm and The Wormhole.
Tone 57 | UnicaZürn "Transpandorem"
Vinyl LP and Download
Written, recorded and produced by David Knight and Stephen Thrower
Additional production assistance: Ivan Pavlov
Cut by Jason @ Transition
Artwork and Photography: Jon Wozencroft
Track List:
A. Breathe the Snake
B. Pale Salt Seam
UnicaZürn build their long, ceaselessly evolving musical compositions through a process of improvisation followed by careful editing and processing. Their music, drawn from subconscious associations while recording, is frequently aquatic or oceanic in overall mood and texture. Knight has spent most of his life living on the banks of the Thames while Thrower resides on the East Sussex coast, and their musical flights of imagination tend toward rolling river dynamics and the open seas of synthesised sound.
For UnicaZürn, tidal imagery, oceanic forms and the slow rhythms of coastal water are a recurring structural presence, with strong associations of rootlessness, of being far away from home, a stranger in a strange land. The inability of human lungs to breathe water endows rivers and seas with a special poetics: a boundary between two different but inter-related states. On the one hand, solidity, clarity, definition; on the other, fluidity, uncertainty, dissolution. The sense of a threshold between opposites gives rise to an elusive otherness, suggesting a portal through which the everyday world can be escaped. Death under the water, the survivors of a lost kingdom clinging to the rocks of an unfamiliar island, a coastal boat ride into deepest abstraction, a deserted beach expressing a world outside reality.
A sexual frisson too: a hovering at the brink, poised at the turbulent edge of pleasure, swept away into oblivion. Do we head toward the sea when we want to escape? And at the coastline, do we walk to the edge because we want to jump, or be swept away by an unexpected wave? There's a darkness in the sea, even if illuminated by the most dazzling sunshine. Open horizons shows the clutter of our lives to be transient, and as we look to the sea we feel a dizzying sense of the eternal. Aquatic sensibility, oceanic timescales: the action of the salt sea beating on the shore. Each grain of sand a rock smashed to dust. Beaches are cosmic, elemental. They are images of time.
UnicaZürn's core instrumentation blends analogue synthesiser, mellotron and electric piano with electric guitar and clarinet. Both Thrower and Knight draw upon their love and wide experience of of electronic music, from the outer shores of Stockhausen to the outer spaceways of Tangerine Dream. In addition, Knight is reknowned for his pioneering multi-textured fretwork with Danielle Dax and his ambient guitar settings for Lydia Lunch, while Thrower's reed playing provided a distinctive melancholy in Coil and emerged as electro-acoustic texture in Cyclobe.
The title "Pale Salt Seam" is drawn from the poem "Night-Song of the Andalusian Sailors" by Federico García Lorca. Parts of "Pale Salt Seam" were recorded live at the Ironmongers Row Baths on 2nd March 2013.

Buy UnicaZürn "Transpandorem" in the TouchShop
www.unicazurn.com
TTW#92 | Jay Glass Dubs "Dislocated Folklore"
Cassette only – limited edition of 100 copies
Illustration – SavX
Track List
A: Dislocated Dub – 29m57s
B: Folklore Dub – 30m26s
Dimitris Papadatos (b.1981, USA) is a composer, musician and sound artist based in Athens Greece. His experimentation in various territories of sound began in 2002 and since then he has indulged in sonic areas that vary from pop music to music-concrete, post-grime and dub. At the moment he actively runs three projects: U, The Hydra and Jay Glass Dubs.
Jay Glass Dubs is an exercise of style focusing on a counter-factual historical approach of dub music, stripped down to its basic drum/bass/vox/effects form.
His work has been presented in various institutions and festivals from the Transmediale, the Athens Biennale, the Onassis Cultural Centre and Fasma Festival, to the Athens/Epidaure Festival, Cynetart Festival and the Greek National Theatre while he has composed scores for award winning short films and pioneering theatrical performances.
He has performed in venues and spaces such as Haus der Kulturen der Welt in Berlin, mo.ë in Vienna, Bios in Athens, Echo Buecher in Berlin,Salon Des Amateurs in Dusseldorf , Detail Gallery in Paris and Goldsmiths University in London. His music has been featured in various radio shows including Trevor Jackson's show on NTS Radio, Sam Segal's show on WFMU, Tristan Bath's "Spool's Out" show on UK's Resonance FM and Tiny Mix Tapes' "Tabs Out" podcast.
Dislocated Folklore, recorded especially for The Tapeworm, consists of two 30 minute long tracks that incorporate mainly stretched-out 0'03" sample recordings of 90s Ragga 12" single intros combined with and recordings of a Quran recitation from a Turkish TV channel and Jay Glass Dubs' signature hybrid hardware/software set-up.
The title refers to (and therefore is an intended pun of) the misinterpretation of "otherism" "orientalism", "exoticism", etc… – phrases often used over the past 100 years to describe a tendency of metropolitan musicologists to intellectualise forms of expression that have a very strong relation to roots, religion and ethics.

Buy Jay Glass Dubs "Dislocated Folklore" in the TouchShop
More information on www.tapeworm.org.uk
www.iamku.net
TTW#93 | Simon Scott "STUK"
Cassette only – limited edition of 100 copies
Track List
A: Part I – 16m40s
B: Part II – 16m40s
"STUK is dedicated to the victims of 13.11.15. As the devastating and abhorrent news of the Paris attacks was breaking I took to the stage to perform with a sinking and heavy heart." – Simon Scott, 21.01.16.
Recorded live at STUK Kunstencentrum, Leuven, Belgium on 13th November 2015. Room recording made on an Edirol R-09hr. Written and performed live by Simon Scott.
Simon Scott is a sound ecologist and multi-instrumentalist from Cambridge, England. His work explores the creative process of actively listening, the implications of recording the natural world using technology and the manipulation of natural sounds used for musical composition. He plays the drums in Slowdive and has recently collaborated with artists James Blackshaw, Spire, Taylor Deupree (Between), Isan and many more.

Buy Simon Scott "STUK" in the TouchShop
More information on www.tapeworm.org.uk
www.simonscott.org
WHO#09 | Philip Corner "Gong/Ear: Shaman"
CD – limited edition of 250 copies
Mastered for release in September 2016 by Jacques Beloeil
Collages by D.M. Nagu, October 2016
Track List:
1: Schloß Elmau, June 20, 1988 – 12m50s
2: Trento, July 2, 1988 – 17m27s
3: New York, April 22, 1989 – 35m15s
Philip Corner (b. 1933) is an American composer, musician and visual artist. His teachers include Henry Cowell and Olivier Messiaen. While on military duty in Korea in 1960-1961 he studied calligraphy with Ki-sung Kim and many of his works have calligraphic scores. A founder member of Fluxus, Corner has performed with George Maciunas, Dick Higgins, Yoko Ono and Nam June Paik. From 1967 to 1970 he taught the course in Experimental Composition at the New School for Social Research, which John Cage initiated in 1956. He was a member of Judson Dance Theater as both dancer and composer and has written scores for dance pieces by James Waring, Yvonne Rainer, Lucinda Childs and Elaine Summers among many others. He lives in Reggio nell'Emilia with his wife and performing partner, the dancer and choreographer Phoebe Neville. His wide-ranging output includes numerous works for gongs, bells, metal percussion and gamelan orchestra.

Buy Philip Corner "Gong/Ear: Shaman" in the TouchShop
More information on www.tapeworm.org.uk
TouchLine 9 | Ipek Gorgun – "Aphelion"
Digital Download – 8 audio tracks – 48′ 23″ + mpg + pdf (1.2Gb)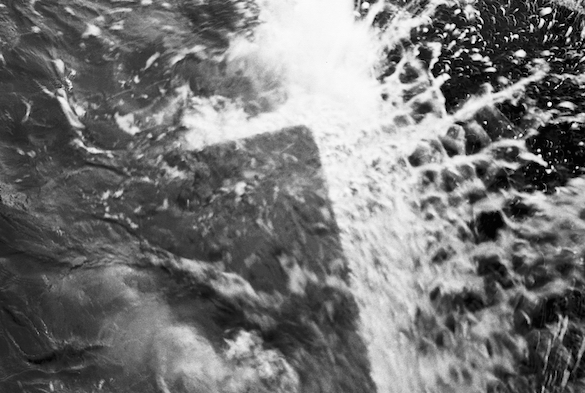 Track List:
1. Kairos 5:28
2. Fata Morgana 4:42
3. Bloodbenchers 8:54
4. Lethe 2:54
5. Martyrs 8:22
6. Dendrite 4:20
7. Nightingale 9:20
8. Troubling Speech 3:50 [bonus track]
Kairos video: Noetic Works
PDF photo book: Ipek Gorgun
Recording and Mixing: Ipek Gorgun
Mastering: Barkin Engin
"The dictionary describes aphelion as "the point in the path of a celestial body (as a planet) that is farthest from the sun", which i reckon is a suitable title since it reminded me of the night time, when I recorded and edited the majority of this work.
The night makes me think about openness and gathering. To me, it is a state of togetherness in which things are allowed to keep their own identity, yet they are covered under the veil of darkness. From time to time we may recognise such things as they are, but the night also evokes the so- called luxury of intuition, helping us become aware of their existence without using our sense of sight.
One might feel that the night has a disturbing, chaotic and uncontrollable character. I can relate to that since it becomes harder to see; our ocularcentric modern ways of living are being challenged. Contrary to the sunlight that helps us divide, analyze and govern, the night tends to reveal our most primitive selves, as well as uncovering our deepest thoughts, untold dreams and memories. In addition, in such state of openness, the lack of light provides more space for the activation of other senses.
This is when hearing becomes so acute – as well as touching and smelling. I still think about smell, but hearing can also be associated with touch, since we are literally touched by sound in the form of waves through space, and they become audible in the range between 20Hz. and 20kHz. The night makes this contact even more obvious.
Such communication is the most intimate that two complete strangers (who will probably not meet again) can be. And I'm once again grateful for my own personal aphelion (2:44 AM, GMT+2) at the moment for helping me write this to you, beloved listener."

Buy Ipek Gorgun "Aphelion" in the TouchShop
www.ipekgorgun.com
www.touch33.net/touchline
2016 Roundup
A roundup of of 2016's editions from Touch, Ash International, The Tapeworm and The Wormhole, available in the TouchShop (if no longer available, they are not listed below). You can subscribe to Touch in the TouchShop, and choose which releases you want in advance, along with a 10% discount…


Vinyl
CD
Cassettes
Download-only Editions
T-Shirts
Guerrilla Audio
Guerrilla Audio is a new series of audio raids by Simon Fisher Turner.
guer·ril·la
ɡəˈrilə/
noun
noun: guerilla
a member of a small independent group taking part in irregular fighting, typically against larger regular forces.
Each audio edit will be posted for 14 days and then removed from the site, although the information about each guerrilla activity will be archived, but without the audio. There will be two postings per month with the first (also featuring Klara Lewis & Rainier Lericolais) on 1st August 2015, so please check in regularly to listen to the latest offering.

Guerrilla Audio
www.simonfisherturner.com
Twitter, Instagram and Facebook
twitter.com/touchmusic | twitter.com/ash10_3 | twitter.com/the_tapeworm
Instagram – @toucharchive | Touch on Facebook | The Tapeworm on Facebook
TAPP 01 | Touch app for iOS and Android
Download the free Touch iOS app at the iTunes App Store
Download the free Touch Android app on Google Play
The previous Touch NewsLetter can be found here.