Touch Newsletter #291
Welcome to the Touch Newsletter #291. STOP PRESS – we are now taking pre-orders for Patrick Shiroishi's first solo album for Touch, "Evergreen". Out on 1st November, two tracks are available now for listening.
On Friday 4 November at London's The Horse Hospital, The Tapeworm presents "MEMOREX" – an evening of misremembering… Words, pictures, music and magnetic reels with The Pathfinders, Cathi Unsworth and Opal X, hosted by Travis Elborough. Tickets on sale now: thehorsehospital.com
Following on from October's tapes by Marsha Fisher and Itchy Spots, The Tapeworm announces two new Autumnal tapes from William Fowler Collins with artwork by Chris Bigg and Stonecirclesampler with artwork by Jana Winderen, both shipping on 4 November – further information below. Also shipping on 4 November there is now a repress of Superior London Pulp's recent, sold-out tape in a new edition of 50 with a black shell.
Macro's Stefan Goldmann has a new release on Ash International. "Call and Response" is nine works for reverberation devices, impulse signals and feedback. Available on CD and digital and out now. Goldmann previously published "Presets", a 220pp paperback book, with us – a reminder below. Other Stefan Goldmann items: Tom Schneider / Stefan Goldmann, "Strictures, Livres I & II"; Stefan Goldmann & .es, "At a Moment's Notice".
---
The Tapeworm presents… MEMOREX
The Horse Hospital, London
4 November 2022
An evening of misremembering… In conversation and alive: The Pathfinders' Roger Cleghorn and Malcolm Garrett. In her own words: Cathi Unsworth. Into the future: Opal X. All hosted by Travis Elborough. Illustration by SavX, of course. Further info and tickets: thehorsehospital.com
Friday 4 November 2022
7:00pm – 11:00pm
The Horse Hospital
Colonnade, London WC1N 1JD
The Pathfinders' Roger Cleghorn and Malcolm Garrett met in the late 70s when studying art and design at Manchester Polytechnic. Moving to London they shared a flat on the 15th floor of a tower block in the Isle of Dogs. Here they recorded a series of experiments, captured directly on a reel-to-reel tape recorder. The Pathfinders could hardly be described as being musicians who jammed together and with almost 40 years having elapsed since recording, memories are sketchy with regard to who made what noise where. Travis Elborough will interview Cleghorn and Garrett to see what can be recalled and The Pathfinders will share unheard archive material in their live debut.
Cathi Unsworth's "Johnny Remember Me" was originally commissioned by Brighton's Literary Loogster Jay Clifton for his "Peripheral Vision" series of live screen talks, in which authors were requested to pick a movie and spin off a character or situation from the film into an original short story. Cathi writes: 'I have always been somewhat obsessed with the John Leyton song, and while researching the life and times of its producer and co-writer Joe Meek for "Bad Penny Blues", had pause to wonder why it was that he ended up with Johnny Kidd's band as The Tornados – but without Johnny. The song being so evocative of curses and ghosts, I wove a little urban myth of my own.
To close the evening, to shoot us into the future: a live performance by Opal X. Opal X is the latest project of London based electronic musician Astrud Steehouder, fusing a sound that is equally inspired by early Mute, Sähkö & American noise metal. Recent projects include the "Twister" album for The Tapeworm described by Boomkat as 'a sort of dank hypnagogic sound mulched from zonked electronics, gynoid vox and graveyard atmospheres' and as one third of the NONEXISTENT drone project released by legendary UK industrial label Downwards in 2020. The show at The Horse Hospital will be the London live debut of the Opal X project and promises to engulf the evening in a crushing cold wave of Goth ASMR Hardcore.
Remember, remember – the 4th of November…
Further info and tickets: thehorsehospital.com
---
William Fowler Collins
"Alone Inside The Walls Of Night"
TTW#159
Cassette in an edition of 100 copies. Buy "Psychic Architecture" on Bandcamp. Illustration – Chris Bigg.
A: I
B: II
Written, recorded, mixed and edited by William Fowler Collins in New Mexico, USA. William Fowler Collins: Mellotron, synthesizers, electric guitar. Heather Trost: violin on I. Mastering by John Dieterich. Mark making – Chris Bigg.
Based in rural New Mexico, William Fowler Collins (b.1974) is a composer, recording artist and performer. His music extends across and beyond many genres including drone, minimalism, and free improvisation. He records and performs in both solo and group contexts. Collins has released music on the SIGE, Type, Blackest Rainbow, Handmade Birds, Sicksicksick and Root Strata record labels. In addition to his work as a solo artist, Collins has several collaborations including Thalassa with Aaron Turner and Mesa Ritual with Raven Chacon. He has also collaborated with Marshall Trammell, James Jackson Toth, Mamiffer and is currently working on new music with Margarida Garcia.
"Alone Inside the Walls of Night" is music for Mellotron, violin, synthesizers, and electric guitar. It was completed in 2022 and is dedicated to Maria Valentina Chirico. It features Heather Trost on violin.
Buy "Alone Inside The Walls Of Night" on Bandcamp
---
Stonecirclesampler
"Alone Inside The Walls Of Night"
TTW#160
Cassette in an edition of 100 copies. Buy "Deep Blue Aquatic Creatures" on Bandcamp. Illustration – Jana Winderen.
A: Underwater Oil (North West Water Mix)
B: The Serpent Swallows Its Soul (Submerged In The Stone Circle Mix)
"The tape is bleak, quite literally – the entire narrative is subsumed by the slate-grey oppression of winter, seemingly every scene soaked by perpetual torrents of North West rain. In fact, you'll probably never find a better evocation of the foul weeks before the respite of Christmas sparkle; those late November days of frozen, sodden-coated darkness on the silent walk home from work." – Stonecirclesampler.
Buy "Deep Blue Aquatic Creatures" on Bandcamp
---
Stefan Goldmann
"Call and Response"
Ash 13.9
CD + Digital. Buy "Call and Response" on Bandcamp. Cover image by Jorinde Voigt. Layout by Philip Marshall.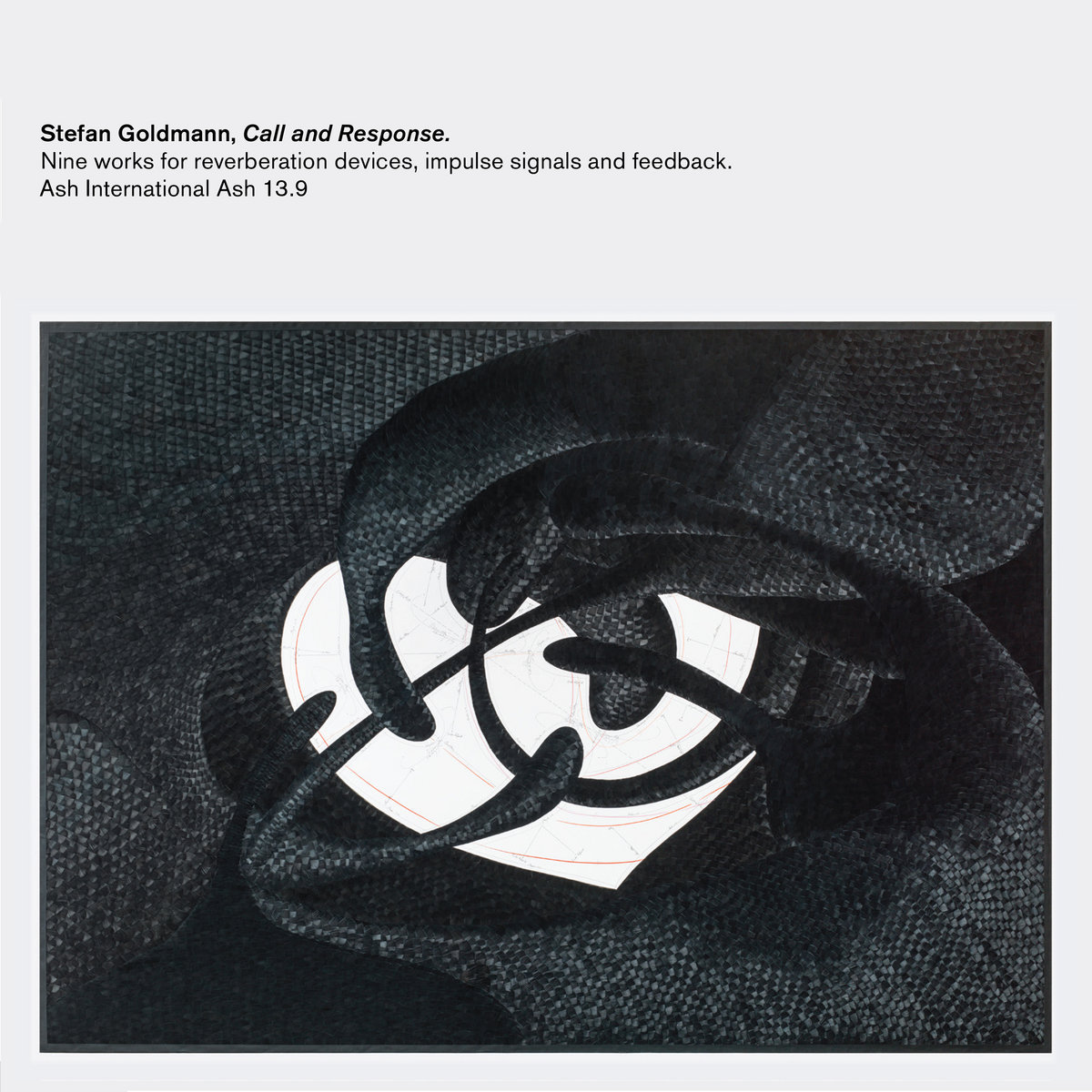 1. Quarry
2. Brick and Mortar
3. Traction
4. Glowing Walls
5. Naive Prober
6. Enclosure
7. Lattice
8. Two Shelves
9. Relic
Stefan Goldmann's "Call and Response" has been crafted entirely from artificial reverb and nothing else: historic and contemporary units, responding only to brief electronic impulses (clicks).
All sounds stem exclusively from the intrinsic properties of machines designed to replicate spatial acoustics. These range from early mechanical means such as springs and plates to increasingly complex algorithms aimed at convincingly approximating the rich acoustic responses of real world environments.
The devices' idiosyncrasies enable the creation of spaces that fall short of naturalistic expectations. Yet new possibilities of exploring physically impossible alternative realities emerge. Recorded music has a rich history of much beloved and highly unreal spatial designs – from the slap-back sounds of rock'n'roll and the echoes of dub to gated snare reverbs and the nonlinear reflection bursts of 1980s drum machine fame. Despite the expected obsolescence of most historic efforts in the age of convolution reverb technology, many odd spatialisation techniques persist and are now the subject of contemporary emulation.
In "Call and Response", the capacity of artificial reverb to go far beyond what the reflections of physical surfaces can elicit is often amplified to gargantuan proportions, only to be folded back into what appears to be the most minuscule of entrapments. Hissing tunnels and threatening wells vibrate left and right. A succession of 'frozen' reverbs solidifies what otherwise would be fleeting reflections. Rapid shifts create artifacts that tear the fabric of space, only to reveal the underlying mechanics of its simulation. Occasional feedback, a reverb's output looped back into a unit's input, produces eerie harmonic textures inherent in algorithmic response curves (analogous to resonance frequencies determined by a room's geometric shape).
The continuously dynamic handling of parameters such as size, density and shape allows for the exploration of impossible architecture along impossible trajectories. An aural choreography, plotted along permanently receding walls, liquid ceilings and crumbling floors.
Stefan Goldmann is a German-Bulgarian sound artist who performs regularly throughout Europe, Asia, the Americas and Australia. He has expanded his artistic reach through a wide array of extraordinary projects outside of club culture, while maintaining an approach that remains essentially techno: investigating grid rhythm, sampling, vinyl culture or digitisation down to their cores. These encounters range from an intimate solo performance at Kyoto's iconic Honen-in Temple to performing the first ever electronic concert at Philharmonie Berlin's Grand Hall, in addition to curating a two-day festival for the eminent classical music institution. Commissions include the large-scale music theatre composition 'alif', site-specific concerts at LA's LACMA museum and CCK in Buenos Aires, collaborations with Ensemble Modern, scoring the award-winning documentary 'A1' and as well as a ballet for Nationaltheater Mannheim. This is his first album for Ash International. He runs the Macro label with Finn Johannsen.
Buy "Call and Response" on Bandcamp
---
Stefan Goldmann
"Presets – Digital Shortcuts to Sound"
TBW#02
220pp paperback book, 110mm x 171mm. Fourth edition. Buy "Presets – Digital Shortcuts to Sound" on Bandcamp.
For his first book, "Presets – Digital Shortcuts to Sound", Stefan Goldmann has talked to industry leaders, programmers, producers, musicians and fine artists to collect a comprehensive description of the world of preset audio: from synthesis to sample libraries, from instrument emulations and gear cloning to automated composition and performance – short cuts in electronic music, classical and traditional musics, guitar rock & fine arts are covered. Disruptive gear and iconic presets, their background and impact – from Korg's M1, Yamaha's DX7 and Roland's 909 to Ableton Live, Native Instruments Reaktor, Sidechain compression and Auto-Tune – are discussed with unprecedented depth and clarity.
Featuring interviews with: Robert Henke a.k.a. Monolake – musician, lecturer & co-founder Ableton, Berlin; Mike Daliot – former senior audio developer Native Instruments & lecturer at Universität der Künste, Berlin; Michael Wagener – multi-platinum music producer & engineer, Nashville; Cory Arcangel – fine artist, New York; Dinis Schemann – pianist, Munich; Members of the Korg M1 product development team, Tomoko Itoh & Junichi Ikeuchi, Inagi; Tony Stevanovski – arranger, Sofia; Dimitar Kotev – musician, Sandanski; plus introductory essay and glossary by Stefan Goldmann.
Buy "Presets – Digital Shortcuts to Sound" on Bandcamp
---
Guerrilla Audio
Guerrilla Audio is a series of audio raids by Simon Fisher Turner.
guer·ril·la
ɡəˈrilə/
noun
noun: guerilla
a member of a small independent group taking part in irregular fighting, typically against larger regular forces.
Each audio edit will be posted for 14 days and then removed from the site, although the information about each guerrilla activity will be archived, but without the audio. There will be two postings per month with the first (also featuring Klara Lewis & Rainier Lericolais) on 1st August 2015, so please check in regularly to listen to the latest offering. We are well into the fifth year and have just posted episode 174…
---
Long Wave
"Suspending time and immersing the listener in a widescreen of sound."
Each month on the second Friday, Mike Harding and Bana Haffar present two hours of audio for dublab, Los Angeles.
You can catch up with the dublab archive on dublab.com, and for the entire Long Wave history (12 series so far for dublab and resonancefm) visit mscharding.net
---
Twitter, Instagram and Facebook
Twitter - @touchmusic | @ash10_3 | @the_tapeworm
Instagram - @toucharchive | @the.tapeworm
Touch on Facebook | The Tapeworm on Facebook
---
The previous Touch NewsLetter can be found here