Touch Newsletter #298
Welcome to the Touch Newsletter #298. "Oxmardyke", a collaboration between Philip Jeck and Chris Watson, is now available to pre-order. Further details below.
On Friday 23 June, The Tapeworm and Through the Looking Glasses present "Midsummer Memorex" at The Horse Hospital, London WC1. In conversation and in performance: Simon Fisher Turner. In sound and vision: Alexander Tucker. Their live debut: Stonecirclesampler. On the big screen: Stanley Schtinter's "Journey to Avebury". All hosted by Travis Elborough. Tickets: thehorsehospital.com
---
Philip Jeck & Chris Watson
"Oxmardyke"
Tone 83
CD / Digital – 9 tracks. Releases 16 June. Buy "Oxmardyke" on Bandcamp. Mastered by Denis Blackham at Skye Mastering. Photography by Chris Watson. Cover design by Jon Wozencroft. With thanks to Mary Prestidge.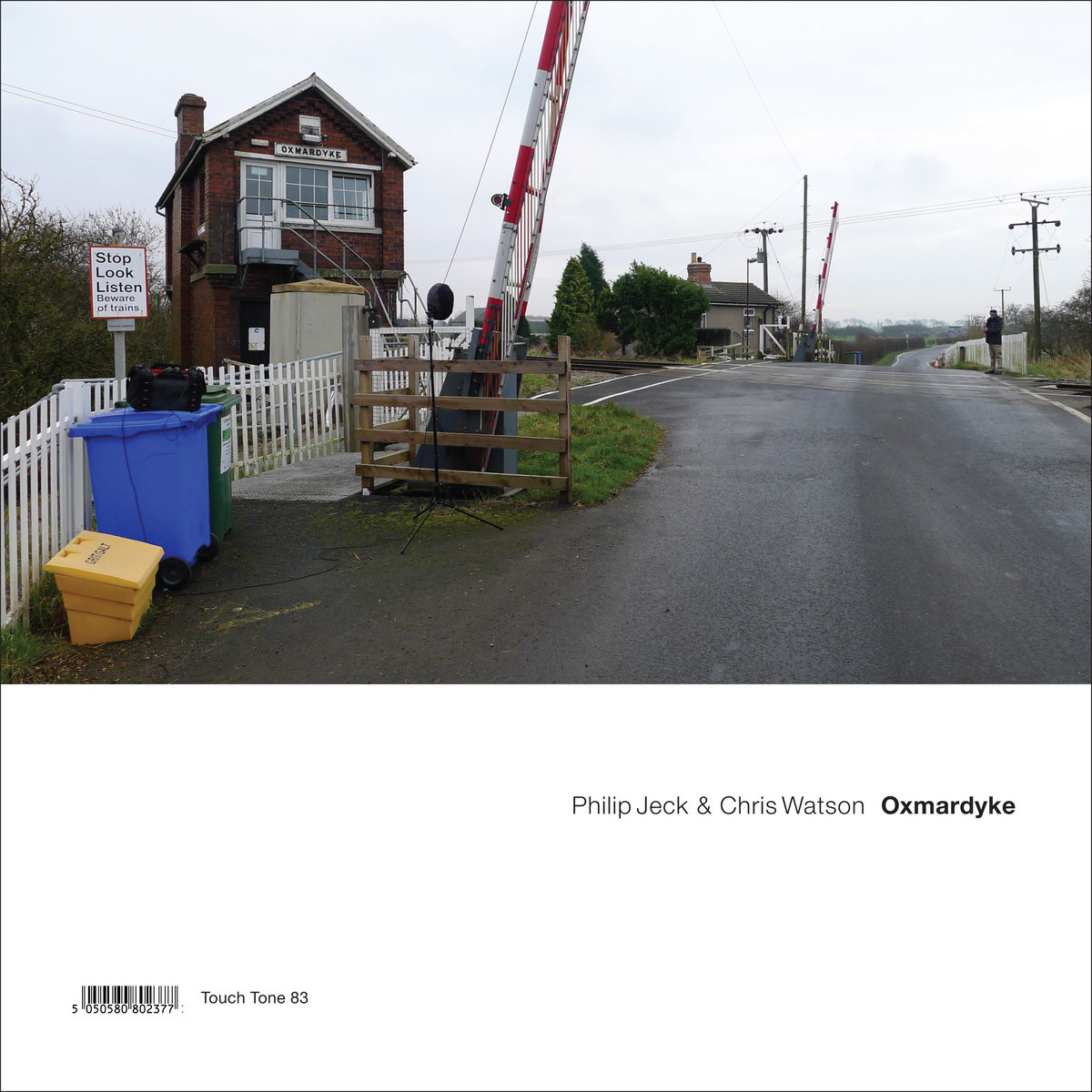 1: Oxmardyke
2: Burn
3: Beetroot Train
4: Coop
5: Drum
6: AH
7: Bridge
8: Salt End
9: Spurn
"Philip's laugh was infectious. Our conversations would usually begin with exchanges around the enthusiasm we had for each other's work and the respect we shared for other Touch artists. However, as we were most likely to have met over drinks at the Philharmonic Dining Rooms in Liverpool the evening would gradually dissolve into convivial disarray. What did emerge from these soirées over recent years was a desire to find ways and means for us to collaborate at a place where our ideas converged.
In 2017 I was recording along the north bank of the Humber estuary and one morning driving back from Faxfleet I was stopped at the Oxmardyke rail crossing. The gates were down. After setting up a microphone array by the tracks for a passing freight train the signalman shouted an invitation to climb up into the gate box to make some more recordings.
Over the following weeks I made several return trips to Oxmardyke and gathered a broad palette of recordings. I discussed the sounds, stories and history of the site with Philip after a show and we were both excited by the potential of making a work together.
Philip was drawn to the ancient history of the area from 6th century Anglo Saxon times to the Knights Templar and how the sounds, rhythms and textures from those periods may still inhabit the contemporary landscape. My thoughts took inspiration from 'The Signalman' by Charles Dickens and the painting 'Rain, Steam and Speed' by Joseph Turner. We agreed to share ideas and exchange tracks.
Oxmardyke gate box has now passed into history.
It was only when Mike Harding at Touch informed me of Philip's condition that we began a final exchange of pieces and I sincerely hope that my contributions may frame Philip's exceptional work." – Chris Watson, August 2022.
At the end of January 2022 Philip was taken to A&E at the Royal Liverpool University Hospital suffering from severe back pain and was admitted for investigations. In the hospital ward, with some strong pain relief, he could more comfortably rest, mostly horizontally. During the day he could be angled slightly toward a sitting position.
Over the following days, aiming to make sense of his current predicament, Philip regained a tiny level of normality. With his laptop in place he tapped into familiar territory and, when finding the most favourable times, listened to and worked with the sound files that Chris had sent him.
During these brief, intense spells Philip gave all to his ear and heart to guide and shape the music forming at his fingertips." – Mary Prestidge, November 2022.
---
Midsummer Memorex
The Horse Hospital, London
23 June 2023
A Midsummer Memorex. An evening of misremembering… In conversation and in performance: Simon Fisher Turner. Their live debut: Stonecirclesampler. In sound and vision: Alexander Tucker. On the big screen: Stanley Schtinter's "Journey to Avebury". All hosted by Travis Elborough. Illustration by SavX, of course. Further info and tickets: thehorsehospital.com
Simon Fisher Turner is renowned for his film soundtrack work which began in collaboration with Derek Jarman, for whom he scored many feature films, from "Caravaggio" (1986) through to Jarman's final work "Blue" (1993). "Caravaggio" began a long relationship with the BFI, with Fisher Turner composing the score for restorations of three silent films, "Un chant d'amour" (dir. Jean Genet, 1950), "The Great White Silence" (dir. Herbert Ponting, 1924), and "The Epic of Everest" (dir. Captain John Noel, 1924), for which he won a prestigious Ivor Novello Award. Simon will also be in conversation with Travis Elborough.
Alexander Tucker is a multidisciplinary artist working across music, assemblage, painting, comics, collage, sculpture, film and live performance. Formally trained as a painter at the Slade School of Fine Art, Tucker went onto produce a series of critically acclaimed solo albums for renowned Chicago based record label Thrill Jockey and All Tomorrow's Parties before recording as MICROCORPS for Alter Records. 2023 saw the release of "Fifth Continent", a posthumous collaboration with the late Keith Collins who was Derek Jarman's partner and collaborator for the last seven years of his life. Recorded in Jarman's Prospect Cottage on Dungeness, Kent and using Collins recorded archive of spoken word pieces and environmental recordings. Accompanying the LP is the publication "Fifth Quarter: Derek Jarman, Keith Collins and Dungeness", an anthology of new writing, artworks and photography edited by Tucker.
Stonecirclesampler is the solo project of London based electronic musician Luke J Murray, fusing a sound of post ice age ambient electronics that conjure images of sub-zero noir wastelands full of rain soaked stone circles and megalithic despair. Recent projects include the albums "The Drift" (Industrial Coast) and "Deep Blue Aquatic Creatures" (The Tapeworm). Luke is also one third of the drone trio NONEXISTENT with Alexander Tucker and previous Memorex performer Opal X. The show at The Horse Hospital will be the first ever live performance of the Stonecirclesampler project.
Stanley Schtinter's 2021 film "Journey to Avebury" is a shot-for-shot iPhone recreation of Derek Jarman's 1971 incidental 8mm film, "A Journey to Avebury", made with James Norton. In 1971, Jarman took an 8mm camera to the ancient landscape of Avebury, filming henges and standing stones as he walked. In 2021, fifty years after Jarman's trip and during a global pandemic, Schtinter attempted to replicate the journey, re-shooting the film as closely as possible with an iPhone.
Further info and tickets: thehorsehospital.com
---
Bana Haffar
"intimaa' إنتماء"
TO:123
Vinyl LP / Digital – 8 tracks. Buy "intimaa' إنتماء " on Bandcamp. Mastered by Simon Scott @ SPS Mastering. Photography and design: Jon Wozencroft.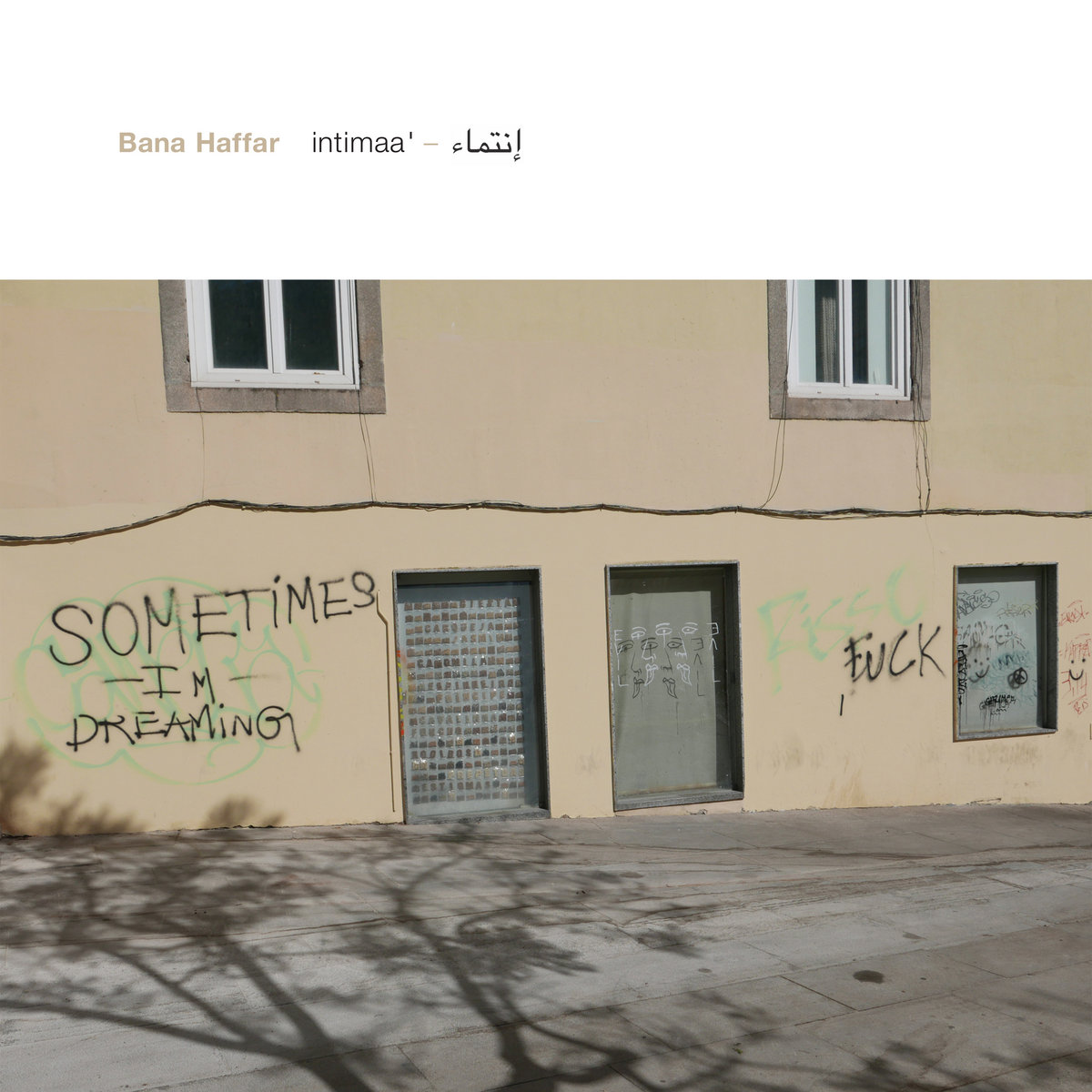 A1: Clearing
A2: Elemental
A3: Ahl Al Samaa'
A4: Lifter
B1: Save This Manual For The Future
B2: Sit Still
B3: All That Is Sometimes Not Considered
B4: Afterimage
Bana Haffar's new album "intimaa'" ("belonging" in Arabic) is now available – a documentation of pieces composed for Touch's 40th anniversary celebrations in Los Angeles and Santa Cruz in the Spring of 2022.
banahaffarreleases.bandcamp.com
---
Guerrilla Audio
Guerrilla Audio is a series of audio raids by Simon Fisher Turner.
guer·ril·la
ɡəˈrilə/
noun
noun: guerilla
a member of a small independent group taking part in irregular fighting, typically against larger regular forces.
Each audio edit will be posted for 14 days and then removed from the site, although the information about each guerrilla activity will be archived, but without the audio. There will be two postings per month with the first (also featuring Klara Lewis & Rainier Lericolais) on 1st August 2015, so please check in regularly to listen to the latest offering. We are well into the fifth year and have just posted episode 189…
---
Long Wave
"Suspending time and immersing the listener in a widescreen of sound."
Long Wave has now moved to the second Tuesday of the month from 8am-10pm PST. The next show is on Tuesday 9th May 2023.
You can catch up with the dublab archive on dublab.com, and for the entire Long Wave history (12 series so far for dublab and resonancefm) visit mscharding.net
---
Touchpoint
Because we are bombarded with stuff, it can happen that great work slips under the radar. We're using the newsletter endpoint to highlight things to look forward to, or maybe lost classics, be they musical, books, films, anything that soothes and grows the soul… Chance meetings, uncanny observations…
One of our neighbours in the village here on the south coast of England is the sprightly 91-year-old Joan. She tells great stories, including how she was bombed out of her home several times during The Blitz in London 1940-1. She describes the experience as "absolutely horrific" and she can sing the engine sound of the V-2 rockets which scared them witless. One of the best stories she recounts is how, walking up the Wandsworth Road in South London with her mother and younger sister she was strafed by a German plane. They tried to hide by the side of the road and she was certain they would be killed. Her mother swore 'til the day she died that the pilot missed them on purpose.
---
Twitter, Instagram and Facebook
Twitter - @touchmusic | @ash10_3 | @the_tapeworm
Instagram - @toucharchive | @the.tapeworm
Touch on Facebook | The Tapeworm on Facebook
---
The previous Touch NewsLetter can be found here